Hydraulic cylinders support London's newest moveable bridge
Providing a road and pedestrian link in Canary Wharf, London's newest moveable bridge is a feat of engineering and architecture, supported by hydraulic cylinders from Dana SAC UK, allowing large vessels to pass through and keeping Thames' commerce flowing.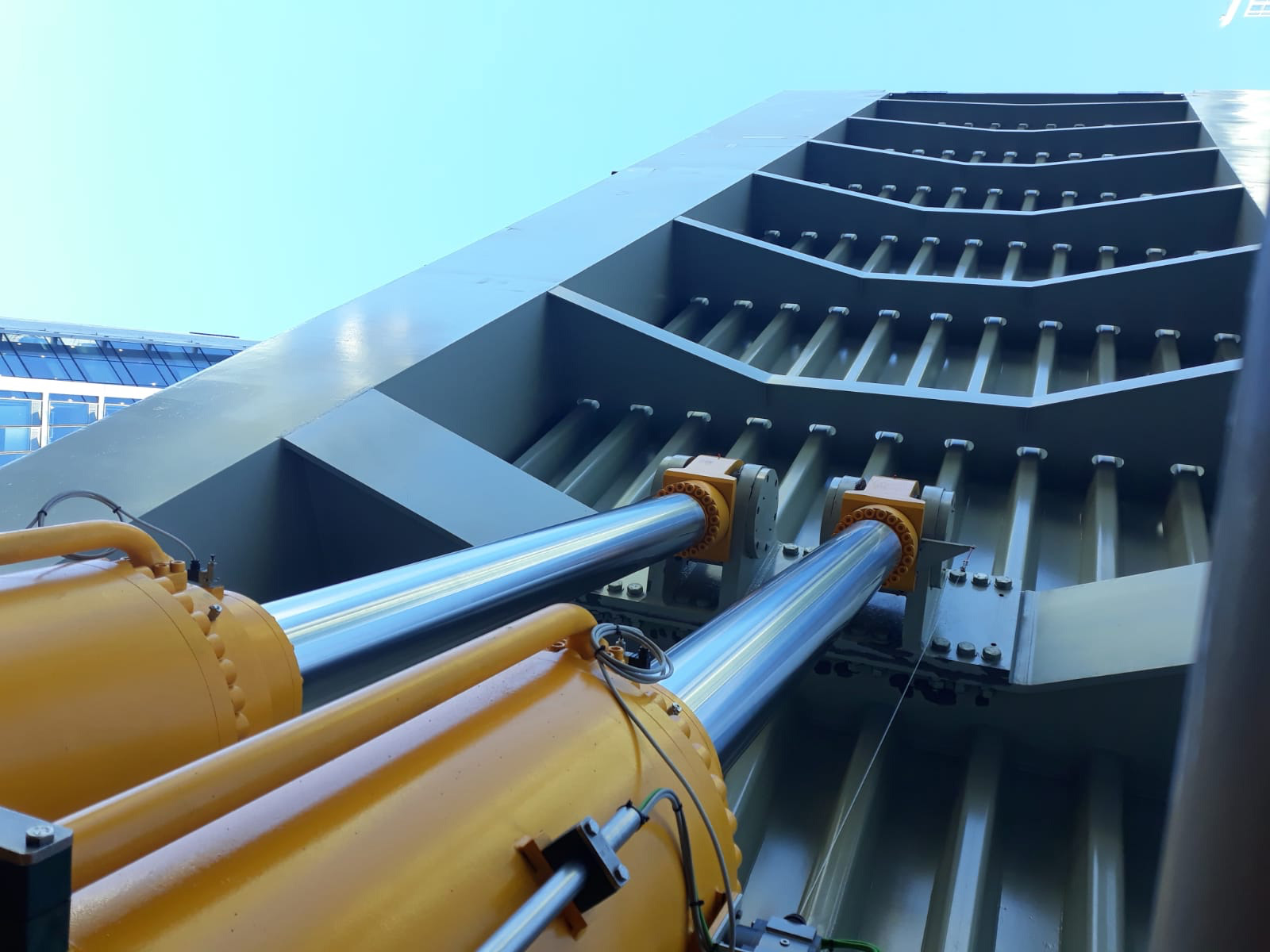 Bridge deck raised, to allow large vessels to pass through
The single leaf bascule bridge, linking Montgomery Square and Canary Wharf's new district, Wood Wharf, presented a host of interesting technical challenges, not least with the Jubilee Line running parallel to the new bridge and below the waterway.
As part of this project, Canary Wharf Contractors Limited awarded Qualter, Hall & Company Limited the contract for the design, manufacture, delivery, site installation and commissioning of the 28 metre span Bascule Bridge. Qualter Hall's full scope of work includes the complete bridge structure, mechanical parts and the operating system comprising hydraulic power pack, two lift cylinders, pipework, cabling, electric / electronic controls, etc.
Appointed by Qualter Hall, Dana SAC UK Ltd were tasked to specify and supply the hydraulic cylinders crucial for the raising of the 185ft bridge deck which was installed after a 36-hour voyage across the North Sea from the Belgian fabricator.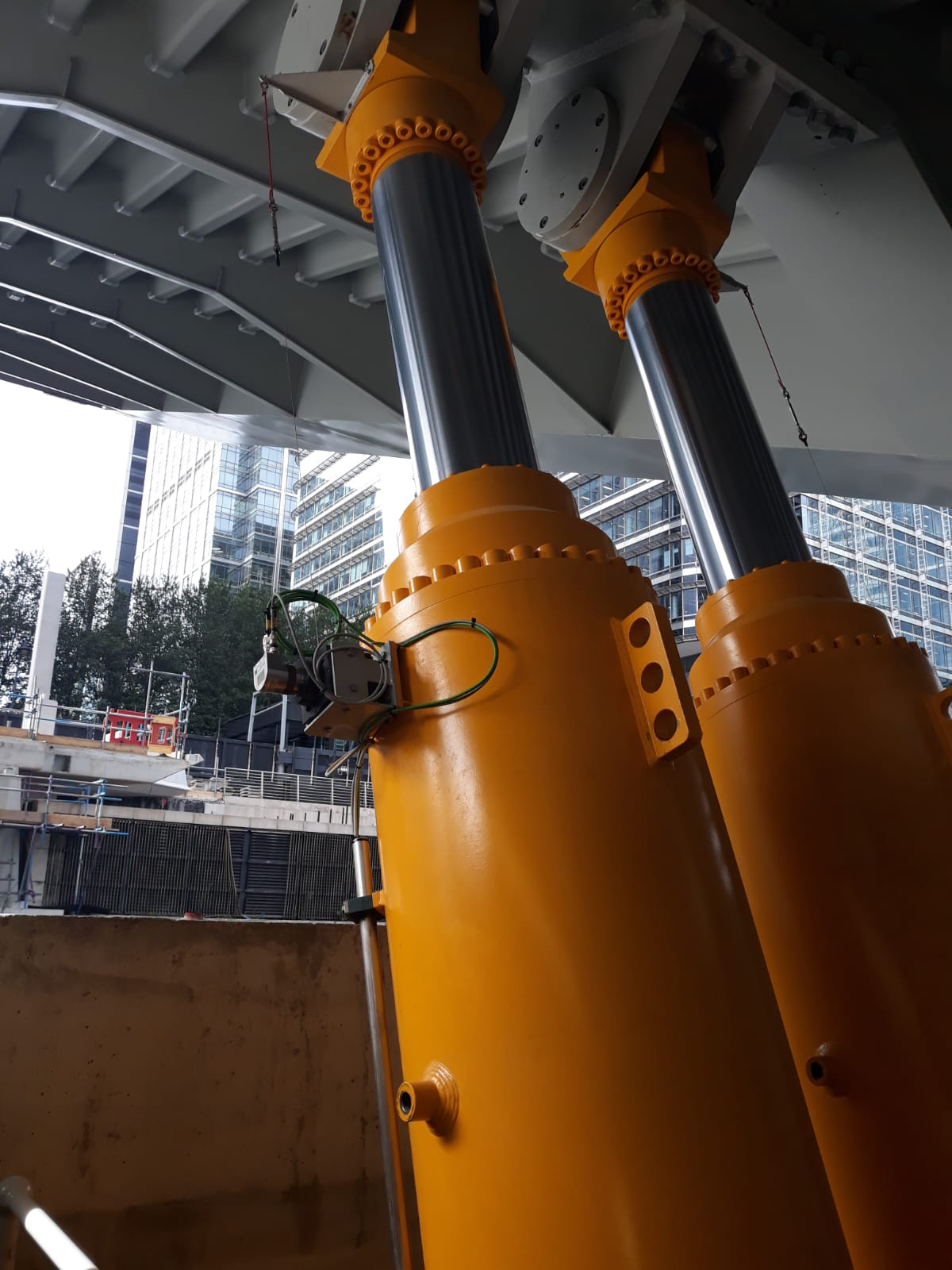 Hydraulic cylinders raising the 185ft bridge deck
Designed by engineers COWI and Knight Architects, the new bridge – supporting road and pedestrian traffic while still allowing waterway access – demonstrates the architects' vision, matching engineering constraints with the 'beautiful ordinary' and reflecting the high quality public realm surrounding the structure.
Commenting on the bridge deck installation, COWI engineer Vlad Opanasiuk said,
"The deck needs to be light enough to be raised but strong enough to support the crossing vehicles and pedestrians. We therefore selected an orthotropic steel deck solution, which is lighter and more flexible than a concrete one, significantly reducing the power required to raise it."
The mechanical parts and steel structure of the bridge are only visible when in the raised position, achieved through twin Ø590/320 x 3341 mm stroke hydraulic cylinders supplied by Dana SAC UK, and located underneath the eastern end of the steel span.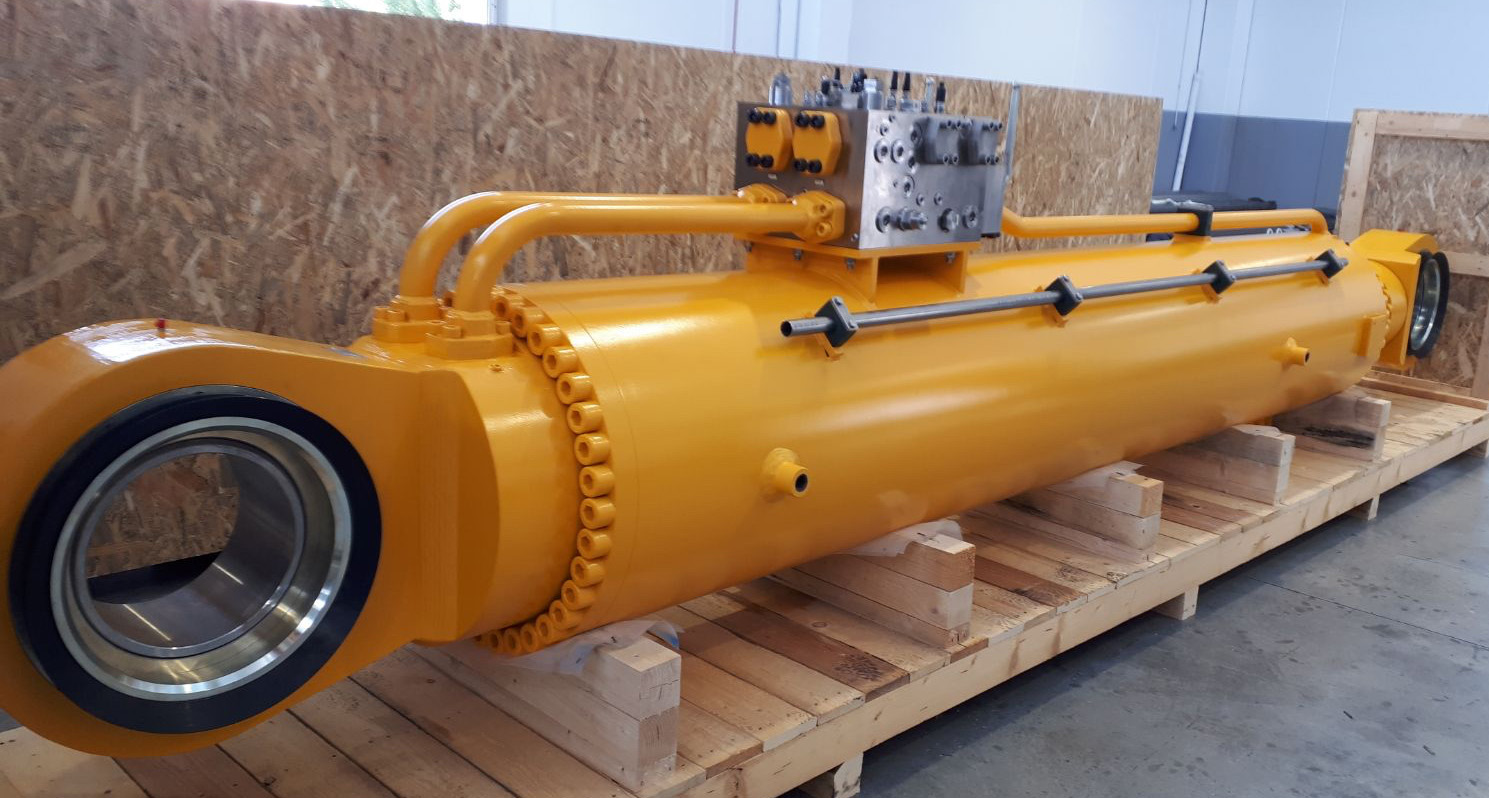 Hydraulic cylinder ready for installation at Canary Wharf
Commenting on the project, Charles Lambert, area sales manager for Dana SAC UK, said,
"In managing the specification and delivery of the most appropriate hydraulic cylinders for this complex project, we were pleased to continue our longstanding relationship with Qualter Hall. Within the UK, Dana have a track record of contributing to major infrastructure projects – with recent TfL projects including Tower Bridge upgrading and the refurbishment of The Woolwich Ferry – and it is a testament to our engineers' expertise that we are contracted to work on high-profile projects such as this one at Canary Wharf. Within Dana we have an exceptional range of products under the Brevini Motion Systems brand as well as access to our wider supply chain, benefitting our clients and ensuring that we can specify and deliver the most appropriate solutions however complex and challenging the engineering requirements."