Off-site commissioning for remote operation: the safe and efficient set-up of hydraulic controls for mobile applications
When Dana SAC UK were asked to specify and commission hydraulic controls, their engineers and sales team were all conscious of the impact of COVID-19 and how this affects working practices both now and for the future. And so, Dana came up with a novel solution: controls for a capstan winch that could be commissioned off-site and that can now be operated remotely.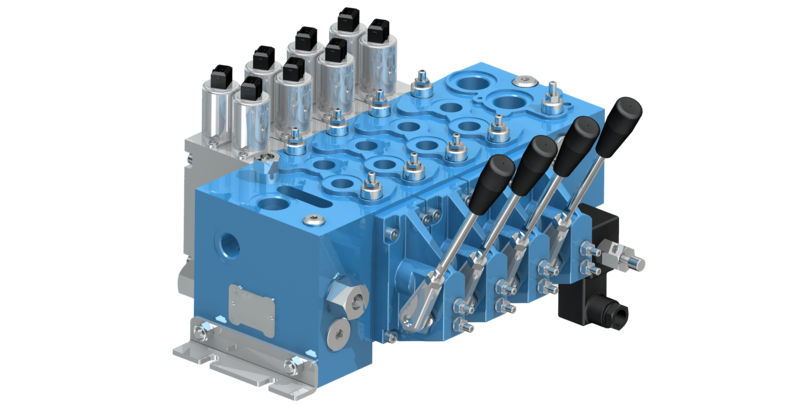 Brevini HPV41 Proportional Directional Valve
The project required Dana to commission hydraulic controls for a capstan winch system – a solution to give more flexibility and greater manoeuverability, suitable for ATVs and capable of being retro-fitted as a modification to the client's existing fleet of vehicles.
With their vast expertise with mobile applications, Dana specified and remotely commissioned a solution equally suitable for any open loop hydraulic system requiring directional and flow control – from crushers, screeners and shredders to ATVs and agricultural mobile machines.
Specifying a range of Dana Brevini Motion Systems' products – a low speed high torque motor with brake, over centre valves, proportional directional control HPV valves and MAV electrical control amplifier cards – Dana's engineers used BPE software to complete the set-up.
System overview:
The capstan winch is controlled by a Brevini Motions Systems HPV41 proportional directional valve, which has a flow rate up to 130 l/min and pressure up to 370 bar, with hydraulic orbit motor with brake
The HPV is controlled via potentiometers with a foot pedal to be used for the "dead man switch"
Dana's MAV amplifier card was supplied to control inputs – the potentiometers and foot pedal
The MAV amplifier set-up was managed through BPE software, fully-customisable user interface software for the parameterisation and commissioning of electronic components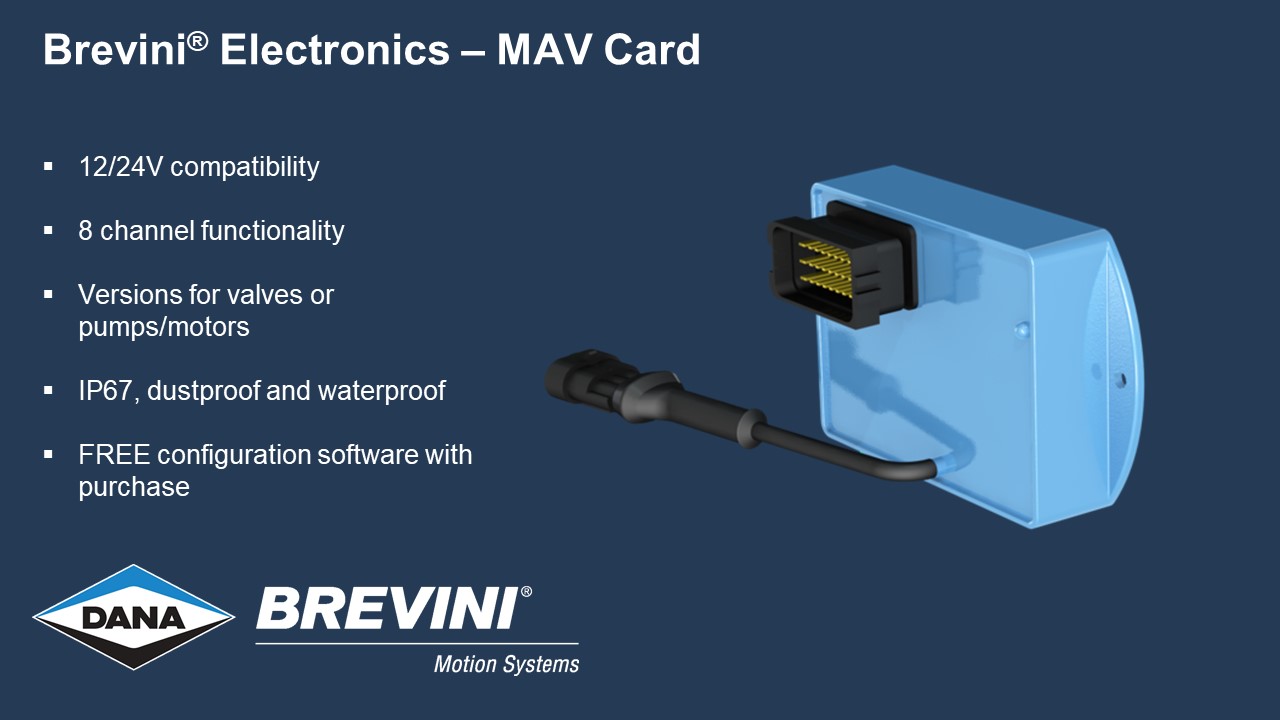 Brevini Electronics MAV Card
Steve Corns, fluid power product manager at DANA SAC UK, explains the remote set-up objectives and how these were managed,
"In the current climate, and with health and safety as the paramount concern, we all wanted to be able to set up the system remotely, ensuring that the winch could be operated at the correct speeds, and this relied on our expertise being available in real time while the commissioning was in progress. Using TeamViewer proved very effective, as we were able to work with the customer through a Team meeting, throughout the set-up. The joysticks, potentiometers and the foot pedal were calibrated using BPE software and ramps were created to ensure the smooth starting and stopping of the winch. The whole commissioning process was seamless, working as well remotely as if we were on-site."
This focus on remote working was inherent in the specification of the hydraulic control system, which offers a range of benefits to the individual operator as well as to the client. The capstan winch is set up for remote operation, via a radio, so that it can be operated away from the machine if required. Also, there are different options for electrical inputs – joystick, potentiometer, foot pedal and PLC controller.
Steve continues,
"This control solution allows for the use of a number of different electrical signals – voltage and current. And, for customers across the mobile sectors, we can cost-effectively fine-tune this system to their own specific requirements, using the MAV amplifier card and the software from BPE which has no additional cost to the customer. If there are multiple machines, only one needs to be set up with the software, as that system can then be uploaded to the other machines. As we've proven with this installation, the system can be commissioned and set-up remotely, via the software and through TeamViewer, meaning that we can ensure safety and, potentially, save on cost at the same time. We see this as an exciting win-win for our customers in the mobile sector."